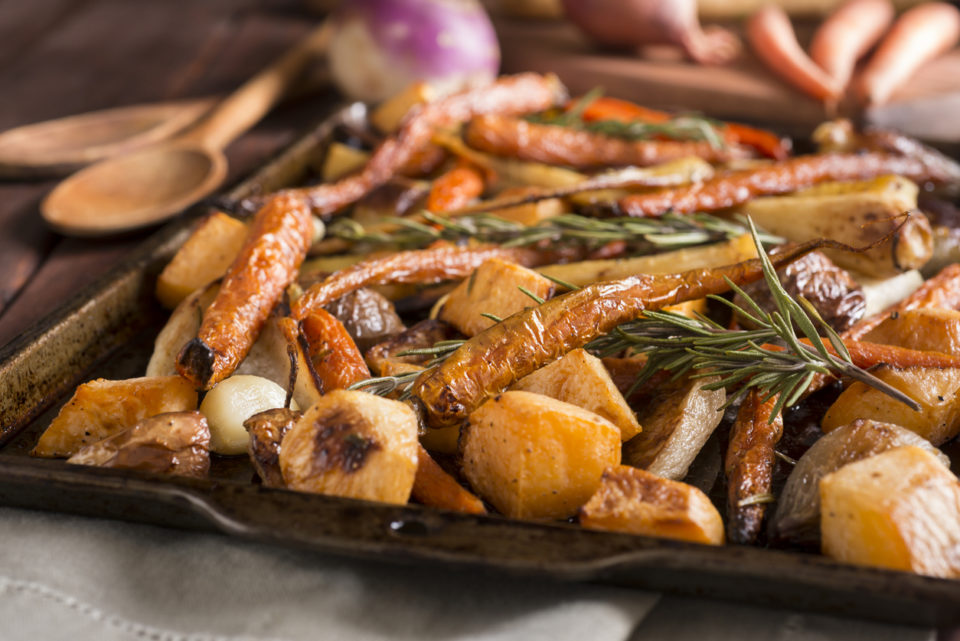 Remember when you were young and adults were always telling you to eat your vegetables? It was a hard thing to do then, but it shouldn't be now. There are limitless vegetable options you can put together to create mouth-watering side dishes and appetizers. With autumn ahead, now is the perfect time to enjoy some new dishes.
Roast Them Up
There are multiple ways to prepare vegetables. Roasting is a popular method, and it does not take long. Another nice aspect of roasting veggies is that you can use pretty much anything. Although, autumn veggies work best.
Try slicing up a couple of portobello mushrooms and chopping two potatoes, and adding in three tablespoons of olive oil, four quartered shallots, two smashed cloves, and two teaspoons of thyme. Sprinkle on some salt and pepper, combine everything, and spread out the mixture in a baking dish. Put it in the oven at 400 degrees for 30 minutes, and you'll have a golden brown, delicious supplement to any dinner.
Soup Is On
You may have your favorite spot in Hope, AR, to pick up some hot soup. Nothing is better on a crisp autumn evening than a hearty bowl of vegetable soup. But you don't have to leave the warmth and comforts of home to cook up your own concoction.
Rustic vegetable soup is a crowd-pleaser for lunch or dinner. Preparation time is just 40 minutes. Choose a yellow onion, one garlic clove, a medium winter squash (peeled and diced), a medium zucchini (diced), and a 28-ounce can of crushed tomatoes.
To these veggies, you will add a tablespoon of butter, half a cup of orzo, a teaspoon of dried thyme leaves, a teaspoon of dried rosemary, and four cups of chicken broth. You can season the soup with some salt and pepper. Put all the ingredients in a large pot and simmer for 30 minutes until the vegetables are soft.
You might also like: Staycation In Hope At The Fair Park RV Facilities
Vegetable Pot Pie
A yummy pot pie doesn't have to include meat to be filling. Vegetarian options can please even your guests who don't always eat vegetable dishes. Gather the following ingredients:
1 tablespoon of unsalted butter
2 small heads of fennel, finely chopped
½ medium yellow onion, finely chopped
2 medium peeled carrots, finely chopped
12 ounces of sliced white button mushrooms
1 small peeled russet potato, diced
¼ cup flour
1 cup of mushroom broth
1 cup of whole milk
¼ cup of thinly sliced fresh chives
1 cup of frozen baby green peas
¼ cup of parsley
1 tablespoon white vinegar
1 large egg yolk
7 ounces of puff pastry
Next, melt the butter in a saucepan and add the onions and carrots, cooking for two minutes. Then add the mushrooms and potato, coating them well with the mixture. Cook for six minutes. Take the remaining vegetables and sprinkle the four over them. Cook for one minute. Add the broth and milk, cooking over medium heat until the mixture is smooth and simmers. Cook for five minutes.
You'll then want to remove the pot from the stove and add the peas, herbs, and vinegar. Stir well and season with salt and pepper. Turn the mixture into a baking dish. Next, whisk the egg with 2 tablespoons of water and a pinch of salt. Put this aside, and then put the puff pastry dough over the baking dish. Brush some egg over the dough and cut small slits in it. Put it on a baking sheet and bake at 400 degrees for 25 to 30 minutes.
Give these veggie recipes a try this fall. You won't be disappointed with the results.
Disclaimer: The stock image is being used for illustrative purposes only, and it is not a direct representation of the business, recipe, or activity listed. Any person depicted in the stock image is a model.