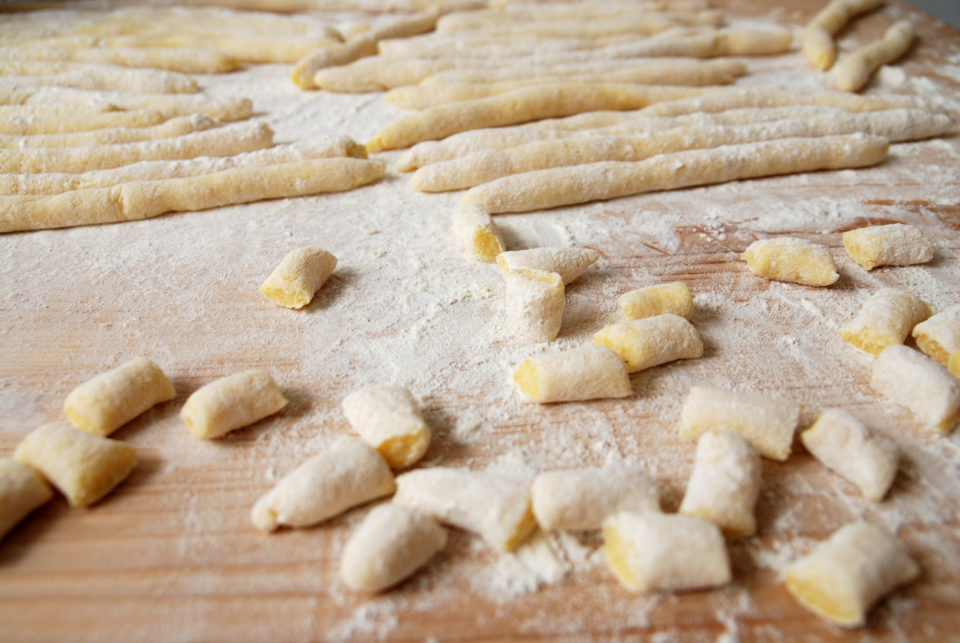 If you've never experienced the sheer delight of handmade gnocchi, you're in for a treat with this recipe. Though frozen or premade gnocchi is still delicious, homemade gnocchi has a pillowy softness that you can't get from a store. Thankfully, making your own gnocchi is easy and low-cost, making it the perfect dinner any night of the week. Let's dig in.
Ingredients
2 pounds of russet or Desiree potatoes
350 grams (or 3 cups minus 1 tablespoon) all-purpose flour, plus extra for your surface
Semolina flour (optional for dusting trays)
Sauce
You might also like: There's Room For More In The Ford Explorer
Method
To start, wash but do not peel your potatoes and place them in a large saucepan or stock pot. Cover with cold water and bring to a boil. Boil the potatoes for about 20 minutes or until the potatoes are tender when poked with a fork. Drain the potatoes and peel them carefully while they are still hot. Mash the hot, peeled potatoes through a potato ricer or with a masher and add the flour to the potatoes. Work the dough until it is homogenous, soft, and pliable. However, if the dough is too soft, add flour in tablespoon increments until it is just firm enough.
Next, flour your work surface and cut the dough into several sections. Roll each section into a log that is about 3/4-inch thick – the length does not matter. Next use a knife or bench scraper to cut the dough into small bite-sized pieces. If you'd like, you can roll each piece across the tines of a fork (or a pasta texturing board) for that classic gnocchi shape. As you're working, place the gnocchi on a sheet tray that has been dusted with flour or semolina flour.
Many recipes skip this step, but it is the secret to pillow-soft gnocchi: freeze your gnocchi on the sheet tray for a minimum of two hours. After the gnocchi is frozen, bring salted water to a boil and cook the gnocchi just until they float to the surface. Serve with your favorite sauce and enjoy!
If you'd like, gnocchi can be frozen for up to a week. To do this, freeze the gnocchi on the sheet tray for an hour, then transfer them to a freezer-safe bag for the rest of the week.