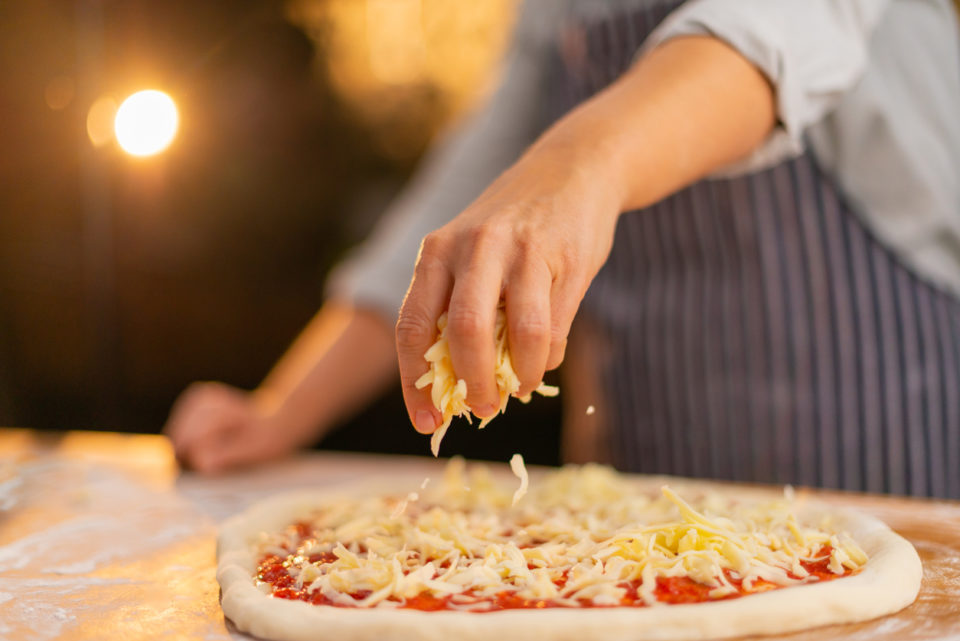 Sometimes pizza night just sounds right! The filling dough, crisp tomato sauce, and cheesy topping goodness are sure to please your tastebuds, but have you thought about switching things up with your choice of cheeses? While you can't go wrong with any kind of cheese, we think you should give these four kinds of cheese a shot the next time you're making homemade pizza. Just thinking about it is making our mouths water. Pizza for dinner every night this week will be all you desire once you read about these endless options.
Mozzarella
Do you know the number one cheese used on pizzas? It starts with an "m," and it's insanely delicious! You can never go wrong with a pizza topped with mozzarella goodness. Although, did you know there are different types of mozzarella? Yes, low moisture and high moisture. Low moisture mozzarella is saltier and denser, so it melts faster, being perfect for pizza. The high moisture mozzarella must be used within the first day of being made. If you're considering whipping up a Margherita or Greek pizza, this cheese might be the one for you.
Provolone
Italian cheese for an Italian meal? Yes, please. Provolone is the second most popular used cheese on pizza. If you want a sweeter-tasting cheese, you should be shopping for a provolone cheese that hasn't been aged for long. On the other hand, if you like a sharper flavor, the long-time aged provolone is perfect for you. While provolone is delicious on any pizza, we suggest using it to make a chicken pesto or Italian tomato pizza. You won't be disappointed!
Gruyere
Are you looking for something a little unique? With a mix of sweet, earthy, and nutty flavors, gruyere will rock your socks off. While this cheese doesn't burn easily, it'll bake wonderfully in the oven. Create a pizza like never before with gruyere, potatoes, peppers, and sausage.
Ricotta
Who's a fan of creamy white sauce as your pizza base? We know we are. Ricotta is typically the cheese used with white sauces, including a blend of many kinds of cheese: gruyere, gorgonzola, fontina, and mozzarella.
With pizza, there are endless possibilities. Now that you've become a master pizza chef, let's talk about your ride. Are you considering an upgrade? Come see us at Hope Auto Company in Hope, Arkansas to view our inventory.